Grow your business with WhatsApp Chatbot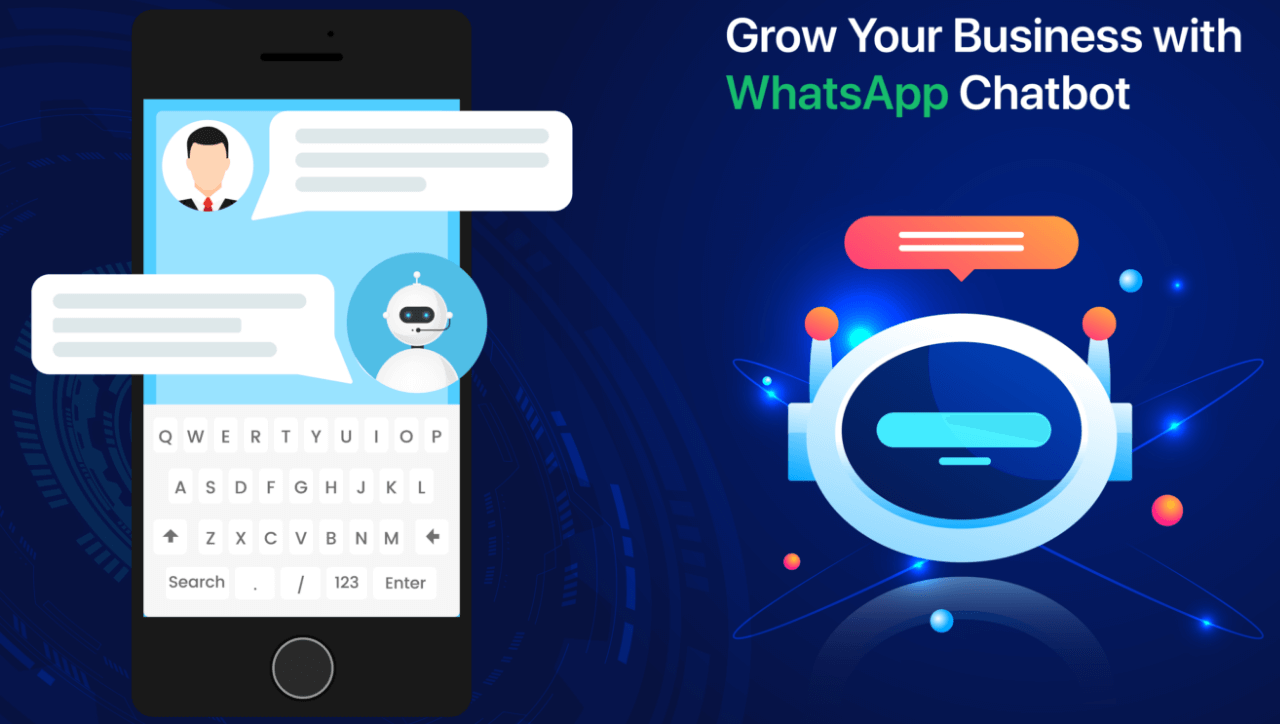 WhatsApp is one of the largest and leading messaging applications in the world. It is the most popular messaging platform that has millions of dedicated users all around the world. WhatsApp allows users to send text messages, voice messages, make audio and video calls, share images, documents, user locations, and other media through their platform for free.
In 2018, WhatsApp has launched a Business App for business owners to connect with their customers, highlight products and services using the platform. It helps large, medium, and small businesses to provide customer support and important notifications to customers through WhatsApp. WhatsApp has recently incorporated messenger chatbot features to the business accounts to communicate with their clients more effectively.
WhatsApp chatbot is basically an automated chat system that is connected with the WhatsApp business accounts for stimulating conversation. The WhatsApp Chabot feature has helped business owners to save their time and energy and allowed them to focus on things that matter.
The presence of the Chabot in the most popular messaging platform has made a huge differentiator for business owners compared to other social media business accounts. The importance of WhatsApp business chatbot lies in the fact that billions of people use WhatsApp on a daily basis. If you are going to engage with each and every customer, then you are going to need the help of an AI-powered bot to simplify your tasks.
Let us check how the WhatsApp chatbot can help you to drive more business.
Better Way to Connect with Customers
Through the WhatsApp chatbot feature, business owners can chat and provide customer service support to the customers more effectively. It helps you to get the attention of customers through personalized messages, providing important notifications, offers real-time customer support to the clients.
WhatsApp has become a part of people's everyday life. Therefore, when you start your business account on WhatsApp, you can expect your clients to message you at any time. Customers would expect you to provide a quick reply to their queries. As an owner, you cannot provide replies to each and every message and customer support queries every time you receive a message irrespective of the time. That's where the WhatsApp chatbot helps your business.
The chatbot is available 24/7 and can interact with customers in real-time and respond to customer queries and messages quickly. Chatbot helps business owners to provide automated greeting messages and showcase your products and services.
WhatsApp chatbot helps businesses to handle their customer care service more effectively. If customers have any issue with the products or have queries regarding the same, WhatsApp chatbot can offer quick solutions through automated messages and provide tutorials videos for the customers. The chatbot can offer primary assistance to the customers and can later transfer the complex cases to the customer service agents.
Brand Loyalty and trust are the most important factor in the success of a business. WhatsApp chatbot offers a personalized customer experience for each customer by interacting positively with the customers. WhatsApp chatbot helps customers to receive customized services and offers based on their personal preferences.
Are you a small business owner looking to expand your business through WhatsApp and make it more reachable to the clients? We can help you to create WhatsApp Chatbot for your WhatsApp business account as per your business requirements. For more information, please visit,
https://mublesolutions.com/chatbot-development